Best Beds
So I've mentioned before that my bedroom is not attractive.  It's a jumble of furniture waiting for a better home, waiting for a space organized with a little more intention (like, more than hey that headboard is kind of cute and under $100.  I'll take it.  Why yes, lovely mother-in-law, I'd LOVE to take that tufted chaise off your hands).  Of course, like a lot of decorators, it's sometimes hard for me to settle on a style.  Do I want a bedroom that's dark and cozy or light filled and somehow ethereal?  Glamorous or earthy?
For now my own bedroom aspirations are on hold, until the dream house appears from the ether, and we sign a dotted line.  For now I'm thinking client bedrooms and don't have to decide which style is perfect for me.  That's why I love my job.  I get to live out your design dreams, without having to commit, myself.
So I'm thinking beds.  Here are a few of my favorites.
Oly's Ingrid headboard, shown here in raffia with spaced nail heads.  I'm a sucker for a good nailhead trim.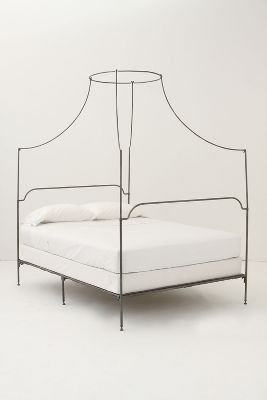 This has made the rounds on plenty of blogs and magazines, nonetheless it's a great looking bed.  Anthropologie's Italian campaign canopy bed.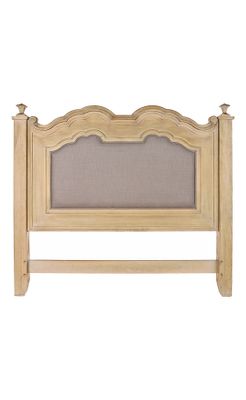 Another lovely Anthro find.  Hello driftwood and nubby grey linen.  Yes please.  Anthropologie Darby Headboard.
You say you want something a little softer?  How about
Williams-Sonoma Home Gramercy Bed.  Upholsterable in many a fabric, and yes quite tailored.
Because we wouldn't be complete without some cozy tufting.  From Neiman Marcus.