Happy Valentine's Day kids.  Here's a little loveliness from the new anthropologie wedding shop BHLDN.
So I've mentioned before that my bedroom is not attractive.  It's a jumble of furniture waiting for a better home, waiting for a space organized with a little more intention (like, more than hey that headboard is kind of cute and under $100.  I'll take it.  Why yes, lovely mother-in-law, I'd LOVE to take that tufted chaise off your hands).  Of course, like a lot of decorators, it's sometimes hard for me to settle on a style.  Do I want a bedroom that's dark and cozy or light filled and somehow ethereal?  Glamorous or earthy?
For now my own bedroom aspirations are on hold, until the dream house appears from the ether, and we sign a dotted line.  For now I'm thinking client bedrooms and don't have to decide which style is perfect for me.  That's why I love my job.  I get to live out your design dreams, without having to commit, myself.
So I'm thinking beds.  Here are a few of my favorites.
Oly's Ingrid headboard, shown here in raffia with spaced nail heads.  I'm a sucker for a good nailhead trim.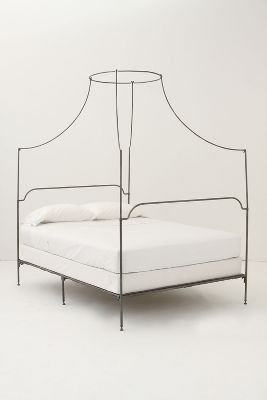 This has made the rounds on plenty of blogs and magazines, nonetheless it's a great looking bed.  Anthropologie's Italian campaign canopy bed.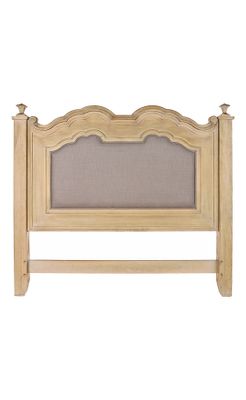 Another lovely Anthro find.  Hello driftwood and nubby grey linen.  Yes please.  Anthropologie Darby Headboard.
You say you want something a little softer?  How about
Williams-Sonoma Home Gramercy Bed.  Upholsterable in many a fabric, and yes quite tailored.
Because we wouldn't be complete without some cozy tufting.  From Neiman Marcus.
Inspired by this post at My Favorite and My Best, a blog I look forward to reading daily, I have decided to flex my decorator muscles and create a Modern Princess room.  I have no desire to be on Design Star.  I don't even watch Design Star (I have a pretty strict reality TV schedule and my standards are high.  I need fabulousness mixed with a little (or a lot) of crazy.  Design Star hasn't made the cut yet (I'm not even going to take the time to link to its lameness!).  Rachel Zoe, Flipping Out,  Project Runway… each of these has the requisite amount of fabulous.  And of course, then there's the Real Housewives.  Whole 'nother level.
So since it's a modern *princess* I'm starting with a serious dose of graphic pink from Jonathan Adler.  Holly at decor8 tipped me off to the new custom options at JA, and I've gotta say it's fun.  Of course I'm a little irritated because I NEEDED these options for a client a month ago, but must've just missed the new designs.
ANYWAY.  Starting here:
Jonathan Adler "Design  Your Own" Rug $1620 for a 9×6′.  I'd like to use the 9×12′, but at a price over $3000 that eats up too much of the $5000 budget  I am vaguely trying to remember.
Next: a headboard.  I like headboards.  They feel so much more finished, especially if you don't have massive pillow frouf piled up against your wall.
A mere $299 for queen size!  No the fabric isn't going to be fabulous, and the shape leaves a little to be desired, but it's soooo much better than the awfulness that I saw in images from Design Star.
West Elm Desk in Dove Gray, $199 without the hutch.
Wisteria Venetian Glass Mirror $189.  To be propped on the gray desk for use as fabulous vanity/face making distraction while doing homework.  Of course, the mirror should probably be hung on the wall rather than propped because kids are crazy, and should this modern princess decide to have a Flashdance reenactment/performance in her room, I'd hate for her to get 7 years bad luck.
Wall color:  I kind of like that color behind the Wisteria mirror, however, I was initially thinking a nice pale gray with a touch of blue would be good.  The gray will last longer and fit with more styles as she grows up into the super-fun and not at all obnoxious teen years.
My total thus far (not including paint) is $2307.  Already I feel light years ahead of Design Star in class.  But of course, I am a mere decorator, not a *designer*.  (I think there was a knock on decorators from the guy that designed the terrible princess room, but I'm not sure.  Anyway…
Next up: nightstands.
On one side I'd add a pop of color with one of these garden stools.  It's just the perfect size to stack a few books or magazines by the bed.  There's something kind of fabulous about that yellow.  
$130-$150 Overstock.com
On the other side of the bed:
This night stand is symmetrical enough to the garden stool that the two sides will feel balanced plus it's got a nice curve to it and will relate well to 
the vanity/desk chair.  Not so much my style, but its laciness plays up the whole princess vibe.  $199
For windows, how about something fairly tailored, like this:
Adds a dose of color coordinating with the zig zag rug.  I've decided this girl's mother sews and they found the fabric on sale, so this window treatment only costs $150 (I can cheat. There are no judges here).  
Bedding.  This isn't exactly what I was thinking, but yay for Dwell Studio for Target, $89 for the bedding $24 for the yellow pillow: 
Can I just note that my total thus far is $3118?  For that price I can go ahead and do custom bedding.  A simple white duvet with pink piping.  Much like this fabulousness from Diane Bergeron as featured in Vogue Living:
I'd like to add in even more pink.  Let's see what Jonathan Adler can do for us.
We could have a little of this:
Which flips to a little of that.
We could also add in some of this and this.
And woah, it's getting too pink in here.  I just had so much fun designing the pillows on the Jonathan Adler site!
I would really like that zebra pillow to be black and white.  There definitely needs to be some more black and white in this place.  How about a couple of Ballard Design's Parsons benches at the foot of the bed?  Maybe in a simple black?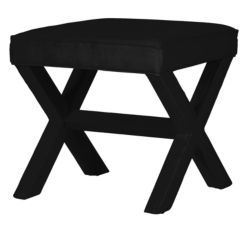 And one pillow I can't believe I forgot:
So I'm feeling pretty good about this room.  Maybe it's not princess enough, I don't know.  
Would the mini roses light from Stray Dog Designs help?
Perhaps with the roses in yellow or pink?  Just an idea to add some flowers.
I would say for artwork that this girl is pretty damn creative and likely has done her own artwork.  If she's more into soccer than art, let's travel to Etsy (you can click on the images to head to the artists' etsy shops): 
And last but not least, should this girl need a dresser for her clothes, how about a simple painted white dresser (PB Teen has some on sale I think, dressed up with some fun knobs from anthropologie.  I'd go glossy black, or maybe even yellow.  I'm sorry, I don't know why I'm typing inside this picture box.  I'll learn how to better use wordpress.  I promise.

Black Glass Knob, Anthro
I know.  I stopped counting.  That's probably the fear of anyone who hires a decorator.  I'm just saying, you could have a FABULOUS room for under $5000.  Much better than the Design Star disaster.